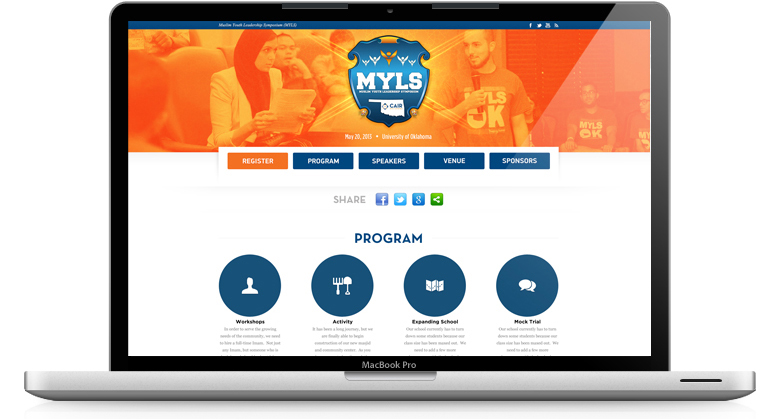 Today marks the dawn of a new initiative for the Council for American Islamic Relations' Oklahoma chapter with the addition of a landing page based registration model for the group's fifth annual Muslim Youth Leadership Symposium.
CAIR Oklahoma launched a new website powered by Virtue Center in October 2012, and used our  registration model for the first time when promoting their annual banquet in April. It was a resounding success, according the chapter's executive director, Adam Soltani. "We actually doubled our registration from the previous year with our old website," he said.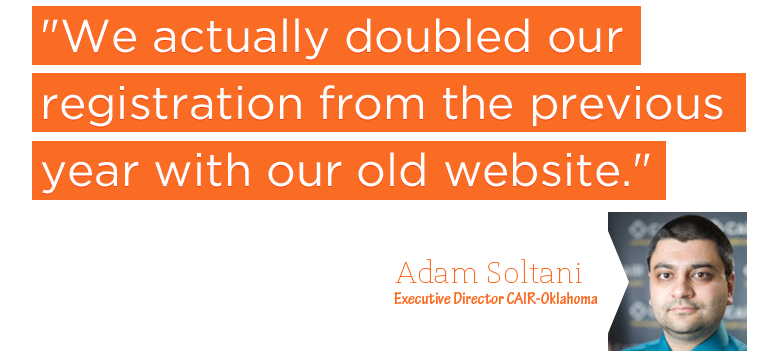 To promote the MYLS event, we recommended trying a landing page to pique youth interest.
When a landing page model is used to promote event registration, Virtue Center's design team works with the client organization to create a visually appealing representation of the event in question, in this case, a leadership symposium for Muslim youth. Directions, descriptions of the event, a lineup of speakers, and other relevant information are all listed in one centralized place, with a form embedded that gleans valuable information from registrants.
While the most obvious purpose of the form is to drive attendance at the event, it's also a fantastic way to build an organization's membership database, an essential tool in the fundraising process.
With the MYLS event, CAIR-OK set up a detailed form that Solani hopes will offer further insight into the youth community, with easy to answer data fields asking about registrant's social networking habits, area of study, and so forth. Solani and the other organizers detailed the process even further, asking participants about their T-shirt size and whether they had any food allergies.
Finally, a short answer section allowed participants to describe their recent community service projects and explain what led them to register for the symposium. Since this is a community outreach program, CAIR-OK has opted not to charge registrants, but each will still receive an automatic electronic receipt after sending the form.
CAIR OK has already utilized VCMS reporting features in the past, to analyze banquet attendance and donation statistics. Using the success of the banquet form as a springing point, "with the Youth Leadership Symposium the reporting will be more advanced," said Soltani.
"We're really trying to streamline things a lot more and push it forward technologically speaking," he said, adding that the design of this landing page is "more attractive to the younger generation and the audience we're seeking."
Today, CAIR-OK kicked off their MYLS campaign by sending an email with the symposium landing page to members in their VCMS database, some of whom had participated in the four MYLS in consecutive years prior. They also added a link to the page on their homepage, shared it through social media, and included it in their print newsletter.
At Virtue Center, we love to see our products in action, and the MYLS landing page is a great application of the tools we provide to clients on a regular basis. Will this year's youth symposium surpass those in years prior in terms of registration and feedback? With a suite of VCMS powered tools to support their initiatives, and an already proven track record we'd say the odds are stacked in their favor.